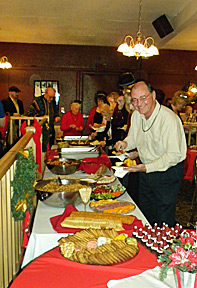 A tempting buffet is laid out for the 2011-12 New Year's Eve performance of Funeral for a Gangster at the Stone's Throw Dinner Theatre in Carthage (Photo compliments of the theatre).


The 2012-13 season for the Stone's Throw Dinner Theatre has been announced subject to changes. Performances scheduled are:
The Mikado (musical directed by Shanti Navarre) - June 28-July 1 and July 5-8, 2012
Saving Grace (directed by JP Dickey) - Aug. 16-18 and 24-26, 2012
1984 (directed by Ray Goepfert) - Oct. 4-6 and 12-14, 2012
It's a Wonderful Life (Christmas show directed by Betty Bell and Pam White-Schaffer) - Dec. 6-9, 13-16, 2012
Nana's Naughty Knickers (directed by Bill Welsh) - Jan. 31-Feb. 1-2, Feb. 8-10, 2013
Twice is Better (directed and written by Robert Denning, a farce set in old-style Hollywood with a love triangle between the director, starlet and producer) - Mar. 21-23, 29-31, 2013
Plaza Suite (with a special Mother's Day performance on May 12 & directed by Betsy Fleischaker) - May 9-12, 17-19, 2013
Season tickets are now on sale. A pass for five shows of your choice excluding musicals and Christmas shows is $85 until July 1, 2012, $90 after that date. Call the theatre for details at (417) 358-9665.
Reservations may be made for individual performances and are prioritized in the order they are received. Phone the box office, go here for a reservation form or e-mail here the number of guests in your party, the date of the performance and your telephone number for a return call for credit card information. Fees are: adults (19-54), $22; seniors (55 and up) and students (w/ID)/Youth (13-18), $19; children (6-12), $10 and children under 5, free.
The theatre is located at 796 S. Stone La. in Carthage on historic Missouri Route 66. The non-for-profit 501 (c)(3) corporation is run by volunteers with all contributions tax deductible. The Stone's Throw Theatre Henri Heckert Endowment Fund is managed by the Carthage Community Foundation and the Community Foundation of the Ozarks with income only used for expenses and capital improvements. Anyone making a donation of $1000.00 or more is eligible for recognition on a plaque in the theatre lobby.
Extra fund-raising efforts include the collection of empty print cartridges for recycling and UPC symbols from Best Choice grocery products. Bring items to the theatre.
Sponsorships for any show are available to help underwrite part of the production costs. In addition, consider program advertising. The cost is $100, full page; $50, half page and $25, quarter page.
The theatre is available to rent for day or night events on on-show dates. Seating is available for up to 90 people. Meals may be arranged. Call the box office for more information.
Theatre's history
From Mrs. Harry Spradling's initial formation of the 1928 Carthage Music Club performing musical shows in schools, churches and other locations, in the 1970s the scope of the entertainment was broadened to include theatrical productions as part of the Missouri Federation of Music Clubs. This newly formed Carthage Music and Theatre Club on September 11, 1984 was incorporated as the Community Theatre for Southwest Missouri Inc., otherwise known as the Stone's Throw Dinner Theatre. Four years later Dr. Foster and Hilda Whitten donated the land on which the current theatre stands and money was raised towards construction of a theatre building.